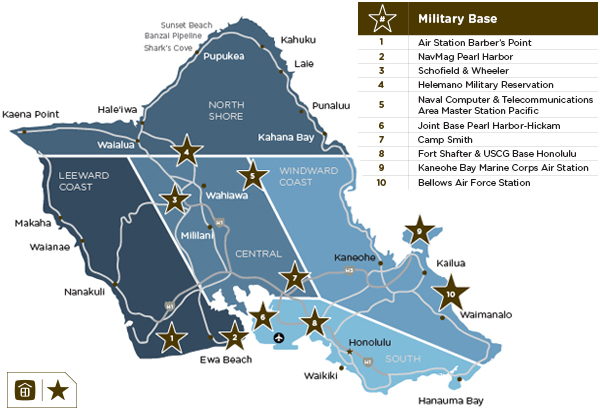 Aloha! Congratulations on your PCS selection to Oahu. If you felt like I did when you first heard about your PCS orders, you're probably feeling like you've won the lottery, but are also apprehensive about what a move to Oahu, Hawaii really means. This article will help demystify your PCS move process to better set you up with the right expectations and way ahead for your future Hawaii military life!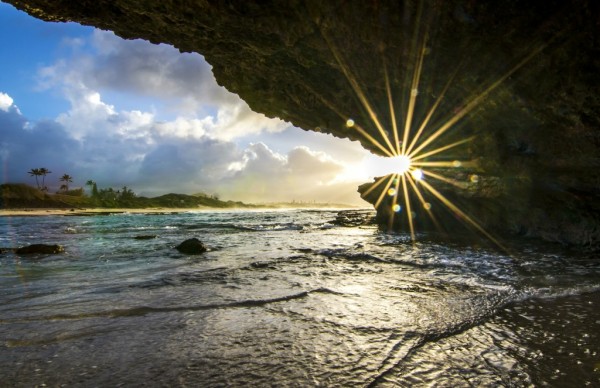 Photo: Christa Funk/USCG/instaclamfunk
First thing, as soon as you get your PCS orders start planning! After PCS orders are issued, each military member will be provided a sponsor, who will provide the member information on moving to your new base. Consider joining social media groups geared towards a PCS and move to Oahu, HI. Nearly every service has a local spouse's Facebook page.
Household Goods (HHG)
When planning your move to Oahu, determine what household goods will stay and what will be left behind as living space is greatly decreased in Hawaii. The standard size of living area is generally around 1,500 sq. ft. for a 3 bed/2 bath home. Estimate your HHG's weight (roughly 1,500 pounds per room excluding bathrooms and storage room) with Move.mil's estimation tool to help with stay-or-go decisions.
Inventory all of your belongings before the movers show up. Consider adding more insurance coverage if you're moving high-value items. The moving company pays a limited amount for lost or damaged items. Private insurance companies, your moving company, or your homeowner's policy may offer coverage for items in transit.
Pet Preparation
Pets are a part of the family, so it's important to take the time to understand Hawaii state laws concerning your pets prior to your PCS.
Hawaii is rabies-free. The quarantine law in Hawaii is designed to protect residents and pets from potentially serious health problems associated with the introduction and spread of rabies. All dogs and cats, regardless of age (puppies and kittens included) or purpose, must comply with Hawaii's dog and cat import requirements.
All dogs and cats must go through quarantine. Depending on how early you get started on your pet's pre-arrival checklist will determine how long your pet will stay in quarantine. Talk to your veterinarian about the move. Pets may be eligible for 30 day, 5 day, or direct release from the Honolulu International Airport (HNL) if requirements are met. Otherwise pets will be quarantined for 120 days upon arrival. It's never too late to start the quarantine process at your current location. For more information: Hawaii's Animal Quarantine Information Page.
To qualify for the 5-day-or-less quarantine program, please follow the requirements stated in this checklist.
Inspection hours for dog and cats at HNL are between 0800-1700 daily. Pet owners must be sure to arrange flights to arrive by 1530 because it may take up to 1 hour for the airlines to transport a pet to the Airport Animal Quarantine Holding Facility. Pets will have to stay overnight at the Animal Quarantine Station if airline arrival times occur beyond 1630. Pick up for pets that stay overnight must be by 1000 or an additional $59 will be charged.
Animal Quarantine Station (0800-1700):
808.483.7151
99-951 Halawa Valley St, HI 96701
United Airlines Military & State Department pet exemptions – Pets travel as checked baggage with PCS orders.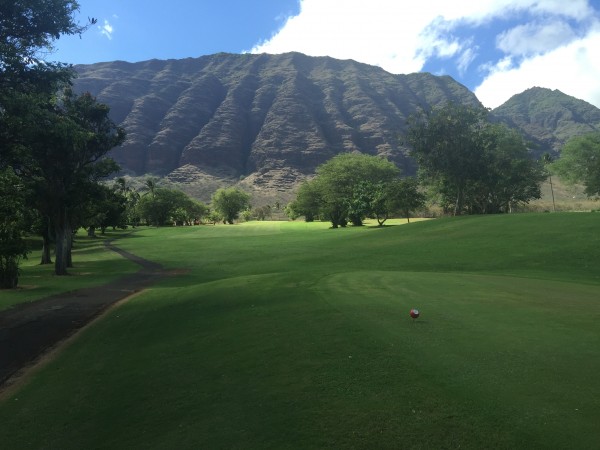 Temporary Housing Allowance (TLA) Approved Hotels
Upon arrival, newcomers must report to their housing office within 72 hours. From the housing office you will be directed to on or off base temporary lodging. Depending on availability of on base lodging, there's a chance you'll be authorized for TLA, which can extend up from 30 to 60 days.
Before checking into a TLA approved hotel, ensure you have authorization to do so by requesting a TLA "Non-Availability" letter prior to making any reservation at a TLA-approved hotel. Here's a current list of Oahu's TLA approved hotels and rates.
If searching for a home off base, newcomers will need to provide documentation to the housing office as evidence of your home's search and current escrow if you enter a contract to buy any island house or condo.
Newcomers' Briefing
Once you've arrived on island, don't forget to attend the free newcomers' briefing your base should offer. Spouses are encouraged to attend. Please inquire with your sponsor for a day, time, and location. These briefings occur monthly. Each base's housing office will have this information for you.
Transporting Your Vehicle (POV) to Hawaii
Military members are authorized shipment of 1 POV at government expense. From ports in the west coast, you can expect to be charged approximately $1,000 for transport charges to Hawaii. A timeline for transport could be 2 weeks to a month, it all depends on when the cargo ship leaves harbor. Once you arrive on island, call the Vehicle Processing Center at Horizon Lines to arrange for pickup. For more information on vehicle turn in, checkout, or in-transit visibility, visit the provided link.
Horizon Lines Terminal (0730-1630):
855.389.9499
1601 Sand Island Parkway Pier 51-B Honolulu, HI 96819-4357
Registering Your Vehicle (POV) in Hawaii
Newcomers must register their POV with the Hawaii Department of Motor Vehicle Registration within the first 30 days of arrival. For more information visit the Department of Motor Vehicle Information webpage.
Non-resident active duty military personnel must submit a properly completed Non-Resident Certificate, Form CS-L (MVR) 50*, for each registration, renewal, or transfer transaction. Form CS-L (MVR) 50 and Form CS-L (MVR) 50A is available from your military personnel office or your unit.
Vehicle registration approval will require passed Hawaii State Safety Inspection. This can be accomplished at selected auto-garages around Oahu. Call to verify an auto-garage can do a Safety Inspection. Once passed, you can then get your car registered.
If you plan on obtaining a Hawaii's drivers license, visit this Driver's License Information webpage.
Note: Talking on your cell phone while driving is against the law. Passengers are allowed to sit in the back of a pickup truck bed if all the seats are taken inside a truck cabin. All vehicle passengers must wear seat-belts. Motorcycle riders are not required to wear helmets while off base (on base helmets are required).
Firearms Registration
Upon arrival military members must register their firearms with the state of Hawaii and the base assigned. The limit to register your firearms is 3 days with the Honolulu Police Department (HPD). Failure to register your firearms could result in a felony possession of firearms charge. To register simply take the unloaded firearm to the Firearms Division of HPD for inspection along with proper identification and proof of ownership. You will be fingerprinted ($16.50 fee) and photographed.
If you plan to live in military or privatized on base housing, you must register the firearm with the base's security office you are on. You will need to bring a valid military ID card and proof of HPD firearm registration, and proof of residence in the housing area. Please refer to Oahu's Military Directory (808.449.7110) for additional registration office contact information.
Requesting a Temporary Mailing Address
Upon arrival temporary mailboxes can be reserved for 90 days and can be extended by request. 30 days prior to your PCS would be a good time to reserve a mailbox. Each base will have their own temporary mailbox location and point of contact. Please refer to Oahu's Military Directory (808.449.7110) to reach your respective base's post office for temporary mailbox information and set up.
Photo: Christa Funk/USCG/instaclamfunk
Medical Resources
Hospital functions have nearly all been consolidated to Triple Army Medical Center:
Address: Jarrett White Rd Honolulu, HI 96859
Online Appointments: www.tricareonline.com
24-Hour Nurses Line: 1-800 TRICARE (874.2273)
All Medical/Dental: www.tricare.mil
MetLife Dental: 1-855-638-8371 (CONUS) / 1.855.638.8372 (OCONUS)
Schofield Acute Care Clinic: (808.433.8850) ***The Acute Care Clinic is located on the first floor of Building 684 of the Schofield Barracks Health Clinic. Access is via the ACC front door facing Waianae Avenue.***
Tripler Army Medical:
Center Emergency Room: 808.433.6629
Central Appointments: 808.433.6661
Drop-In Care: 808.433.3270
United Healthcare: 877.988.9378
Schools
The Hawaii State Department of Education works hard to smooth the transition for military families who enroll their children in Hawaii's public schools. School enrollment requirements, zone maps, and FAQ can be found online. It's also recommended that you contact your current and destination SLO (School Liaison Officer) to assist with the transition.
GreatSchools.org is a great resource that will quickly acquaint you with school ratings and performance.
Homeschooling is also popular on Oahu. Various homeschooling communities are active and flourishing all over the island. To find the various homeschooling networks, conduct a simple online social media search that will be able to link you directly to active organizations.
Ewa Villages
Housing: Base Housing, Rentals, & Home Buying
Newcomers and their families have 3 options to consider when moving to Oahu. They can either move on base, rent, or purchase.
Moving On Base – Depending on which base you're being assigned to will determine the base housing you'll be directed to. Connecting with each service's housing office will be able to link you with vacancy options at the time of request. Unfortunately, all or most of your Base Housing Allowance (BAH) will be taken away from you by moving on base. Contact your sponsor or reach out to military directory for updated housing office contact information.
Renting Off Base – If you decide on base living is not for you, renting is an option. Moving off base means you will be provided a significant amount of BAH in accordance with your grade and dependent status. BAH is supposed to offset the cost of market rental housing by offering a monthly allowance that will permit you to live comfortably in the local area. In fact, BAH is actually formulated off local area rent averages. As rent increases or decreases, BAH amounts will follow in trend. Due to the fact that rents are high on Oahu, so is BAH. To find out what you will be provided in BAH on Oahu, visit the Defense Travel Management Office's BAH Calculator Tool.
Preferred Oahu rental search resources are Craigslist or AHRN. Craigslist is known to be the best online option when looking for rentals.
Purchasing a Home – Not interested in losing your BAH to on base housing or rental landlords? Buying a home on Oahu just might be the option for you. The best time to buy a home is upon your first PCS arrival into Oahu. Military members and their families are provided 8 days of "house hunting" and up to 60 days of Temporary Housing Allowance (TLA) to look for and purchase a home. Considering it takes 45-60 days to "close an escrow" (purchase a home), this is exactly the right amount of time to get into an island home.
Honolulu Board of Realtor FACT: Median price of a home on Oahu in 1985 was $158,600. In July 2015, the median price of a house was $710,000. Based off historical sales data, values double every 10-15 years on Oahu.
Using Your VA Loan Entitlement – Oahu's current VA loan benefit limit is set at $721,050. This means if pre-approved for a VA loan, a veteran can buy a home at 0% down up to $721,050; as opposed to a Conventional 3-20%+ down loan non-veterans are subject to when buying a home. If you've already used your VA loan in another location, you'll be surprised to find out you most likely have enough of the loan left to use the rest of your VA loan on Oahu. The only requirement for use of the VA loan is the buyer(s) must live in the home for at least 1 year immediately after closing.
Other benefits to using a VA loan include not having to pay Mortgage Insurance, lower interest rates, and lower credit score requirements. VA loans can also be used to purchase multi-family properties. It is important to keep in mind when looking to use a VA loan, strict condition requirements must be followed, homes need to be in good condition (no fixer uppers) and only have permitted work done on them. Any unpermitted improvements causing a property to not match tax records will negate the use of the VA loan. This is to help make sure the veteran is buying a safely built and permitted home.
When it comes to VA loans, closing costs can be negotiated and sometimes covered by a lender. However, in general, buyers will need 2% of the loan amount to pay for closing costs, appraisal, home inspection, taxes, and fees, etc.
Contact Hawaii VA Loans for more information on how you can take advantage of your VA loan benefit.
Recommended off base living locations…considering quality of housing, neighborhood safety, schools, distance to bases:

Kailua, Kaneohe, Mililani, Ewa Beach, Kapolei, Haleiwa, Aiea, Honolulu.
The most affordable and new off base housing options exist on the Westside or "Leeward" of the island. To explore what homes currently are for sale right now, contact the Hawaii Military Team to establish an automated listing service that will provide you current housing inventory for your areas of interest using the Multiple Listing Service (MLS) tool.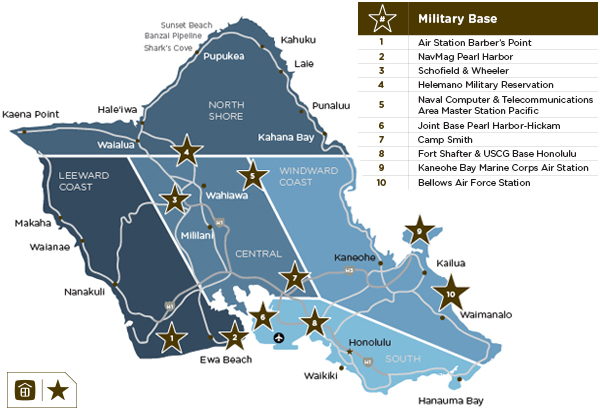 Commute Times
It's no secret, Oahu is busy with a population of almost 1 million, meaning traffic is everywhere. The peak commute hours are 6am-10am and 2pm-6:30pm.
Living on the Leeward side of the island could mean transit times from 1-2 hours if traveling into and out of Honolulu. Windward traffic jam commuting generally takes 40 mins-1 hour. From the North Shore to Honolulu it can be 45 mins-1 hour. If you happen to work odd hours, you might be able to escape being stuck in traffic too long. Outside of traffic hours, commutes from the Leeward and Windward sides into Honolulu can be a speedy 30 minutes.
Another transportation option will be available when the new rail system comes online at the end of the decade. The rail line will start in Kapolei and end at Ala Moana Mall. The estimated time of completion is 2019. Ride times from Kapolei to Ala Moana are expected to be 43 minutes. Visit Honolulu Rail Transit Project for further updates and details.
Additional Resources
Military OneSource – invaluable resource for PCS moving info.
State of Hawaii's Interactive Newcomer's Guide – access everything related to your move to Hawaii!
MyBaseGuide.com – is an affiliate of HI Military and also maintains a very handy APP you can use on your mobile device to quickly research base info, services phone directory, nearby local attractions, current weather conditions, even compare local gas prices! Their website also connects you to the handy relocation guides.
Great Life Hawaii – is Oahu MWR's website. This webpage features a ton of great information that will help make your move go smoothly. Information on entertainment events, equipment rentals, and vacation cottage rentals are also featured.
Space Available Flights – The Air Force's Air Mobility Command offers space available flights on their transiting mobility aircraft to military members and their families year-round. Visit the provided link for direct Facebook page access to the airmen at Joint Base Pearl Harbor-Hickam's Space Available Terminal Passenger Service Center. Furthermore, details on obtaining a Command Sponsorship letter (if a spouse plans to travel without the military member) can also be found by contacting Passenger Service Center personnel before traveling.
Military Directory – Oahu's military phone operator (808.449.7110)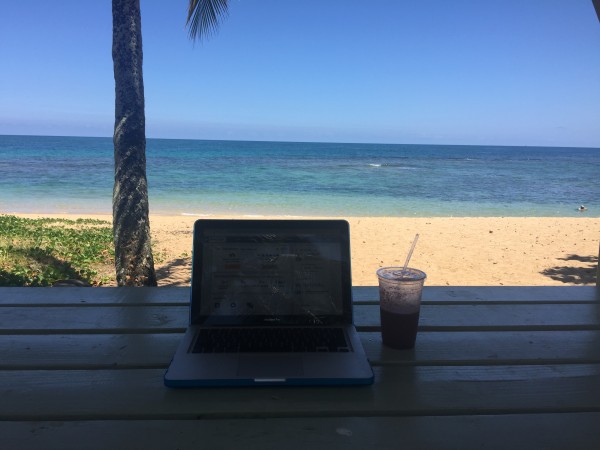 Mahalo!
I hope this guide was helpful in preparing you and your family for your upcoming PCS. If you have any further questions about PCSing to Oahu, HI,  are interested in exploring your island home purchase, or selling options, please contact me!
*information in the post is subject to change. This is not an official DoD publication.